---
On Monday, out of the top 10 coins by market capitalization, seven are registering an overall positive sentiment (it was six last week,) and two are in the negative area, according to Predicoin, a crypto market sentiment data analysis service. Today's average score is 5.58, another improvement compared to last week (5.41), although the hype compared to then seems to have somewhat lessened and the sentiment worsened in the past 24 hours.
Three coins with the highest score today are Bitcoin , Ethereum , and EOS . Bitcoin is up compared to last week, while Ethereum is hovering over a similar score and EOS dropped a little. Litecoin is the only coin to have dropped from green to grey, although it is still well above complete neutrality at 5.8. Only two coins started the week in red: XRP and Stellar, both at 4.7 and both with an obvious increase compared to where they were last week (4.1 and 4.4, respectively).
Sentiment change among the top 10 coins:
(5 is neutral, below 5 is negative, above 5 is positive.)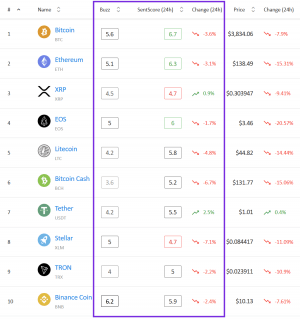 However, the sentiment surrounding most of the coins is dropping, with the exception of XRP and Tether (rising by 0.9% and 2.5% respectively). This goes in hand with the recent price drop that followed the weekend rally, as the market currently stands in pretty deep red.
In all, the best improvement throughout the week happened to Bitcoin Cash, whose sentiment rose by a 12.6%, followed by XRP with an increase of 7.3%, and Stellar, up by 7%. There were also losses in sentiment scores at the end of the week: Litecoin's total sentiment dropped by 0.6%, and Tether's by 0.1%.
From the winning list, Bitcoin's best features are, again, its fundamentals which scored 8.7, and it needs work on the social aspect – the only one below five with a sentiment score of 4.5. Ethereum's technical aspect scored the highest with 7.2, and they follow in Bitcoin's footsteps with the social side rated 4.8, again the only negative one. EOS, meanwhile, can thank the technicalities as well as the news surrounding it for its score (7.5 and 7.3 respectively), because all the other points have negative ratings.
Bitcoin SentScore in the past 7 days: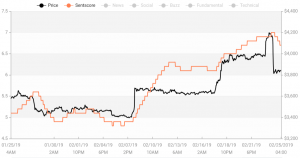 As for the losing list, XRP biggest problem lies in its technical aspect (2.7), but the news (7) surrounding it are bringing the average up. Stellar is in a similar boat: technical aspect at 3.6 and fundamentals at 3.8 are dragging it down, while news (7.2) are saving it from drowning completely.
All in all, the average score coupled with the fact that the buzz has died a little over the past week show a strong market sentiment that was not very easily brought down by the price drop that market saw on Sunday.
According to David Thomas, Director and Co-Founder of GlobalBlock, a London based cryptocurrency broker, as another trading week begins, there are a few key things to look out for.
"First up is the Ethereum Constantinople upgrade which has been delayed since last month due to vulnerability issues, but is due this week [around February 28]," he wrote in a weekly update.
Another anticipated announcement for the crypto market is the US decision on Bitcoin ETF due on February 27.
"Joining this discussion is the Korean Exchange [South Korea's only securities exchange operator] who have recently said they're closely monitoring the developments from the United States regulators on Bitcoin exchange traded funds, as the decision will "Set a tone for local crypto markets", Thomas said, adding that any positive outcome here should result in a rally on crypto prices.
"Although given the previous capitulation surrounding this issue, we wouldn't be surprised to see this deferred yet again," he added.
---